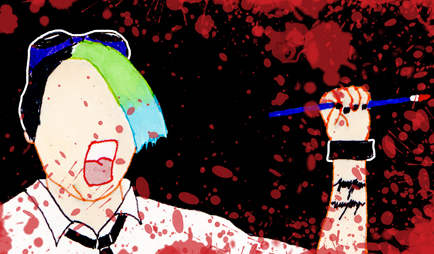 Josephine is an illustrator who creates backgrounds and sceneries of a darker world. Her love of science fiction and horror films can be seen influenced in her pieces. Unlike most concept artists, she works traditionally with oil paints rather than digitally on a computer.
She graduated from the School of Visual Arts with a Bachelor's degree in Fine Arts. During her time there she had work displayed every year at the end of the term shows.
Currently she is working on furthering her portfolio. She also spends time making costumes and props along with working on special effects makeup.
Resume
2009 ~ Featured in the School of Visual Arts magazine, the Visual Opinion, The Grad Issue
2008 ~ Junior Thesis Show at the School of Visual Arts
2006 ~ Special Jurors Mention at the End of the Year Freshman Show
2005 ~ Earth Day Poster contest
2005 ~ In the Classroom contest. Drawings were published in the book "The Classroom" by Michael James D'Amato.
Email: thespazoutloud@gmail.com